Hi! Still here. Sorry for the long no-post spell. I've just sorta lost my blogging mojo for a bit. This happens to me now and then...but I think I'm not the only one...right? I know I've read some of your blogs and you get this too.

I have been knitting a little, not a whole lot though. Not really sure what's bothering me and making me not want to knit, but again, I suppose we all go through these spells now and then, don't we?

I've been working on my Pink Flamingo sock here and there, and enjoying it. I've done the heel and am cruising on down the foot now. I like it so far...once I get a little further I'll try it on and make sure this is not all for nothing. My last sock attempted at this stitch count and size of yarn was not so successful, but I'm hoping this needle size will do the trick this time.

In yarny news, I forgot to share this little gem I recently, um...*cough* purchased. (The last thing I needed was more sock yarn...but, well, ya know. The wiles of yarn and all that. ;o) Plus, I was supporting a nice little online yarn shop, Sonny and Shear.) So anyway, in addition to all those excuses...I've also never had a skein of Yarntini before! It's so pretty...it's certainly very bright...but pretty!

This color is called Sangria. Yum.




So, that'll be a good summertime sock project yarn, I'd say.

I'm also thinking a bit about other projects...I have some springy-colored yarn I've wanted to make some ankle socks with. I'll post photos soon...but the yarn is Panda Cotton and since they're small balls of yarn, I wanted to do toe-up socks so I don't have to worry about running out of yarn.

As is my usual way, I also wanted to write up a pattern of my own for a basic toe-up sock, and so I'd started the sock a while back and am working on the pattern at the same time. I set it aside when I reached a hiccup, but now I'm inspired by the onset of spring to pick these back up!

This is the yarn...it's NOT a very accurate photo color-wise, but it's all I've got for now. It's called Strawberries and Limes if you care to google for a better photo. (Wait...here ya go.)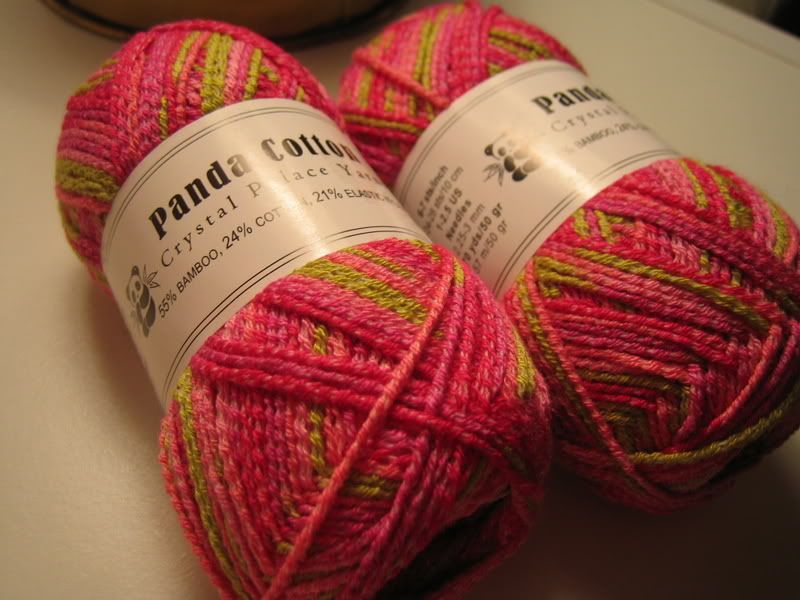 It has a bit of elastic in it too. I noticed the yarn was a bit splitty as I knit it, but...the color is so pretty I can live with that!

I was also recently hit with a desire to make Whidbey the Knitted Bear. I've had the pattern for him for some time now, but something made me want to find some yarn for him and start it. We'll see. That project may not materialize right away, especially if I can't find the yarn locally (you know, that whole instant gratification thing). I tend to get a little distracted, in case you haven't noticed. ;)

That's all for now. Back soon with babble about another project I've got brewing.