Ahem. Long time no post, again. My apologies to my loyal readers…if you're still there!! I do have some pretty pictures to show you, so hopefully that will appease you.

So, during my latest blogging hiatus, I was both here and very busy (no excuse) and also away on vacation (definite excuse as we were in the middle of nowhere). We went camping on Lake George, in upstate NY. So much fun! Well, okay, the rainy day-and-a-half was a bit of a drag, but when the weather is nice, there's nothing better. We spend our time relaxing…sitting around in our camp chairs, reading, knitting (in my case anyway), snoozing in the hammock, swimming in the lake. And, lest I forget, soaking in the gorgeous view: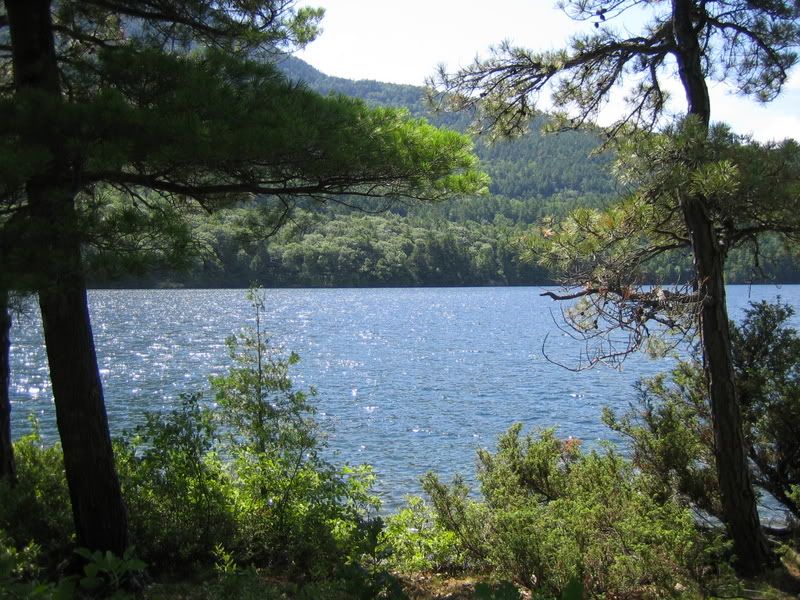 The place where we go camping is on one of many little islands in Lake George. It's so gorgeous there…the water is clear, and surrounded by green everywhere. You need a boat of some sort to get to the islands for camping.

This has been my in-laws' destination for their summer family vacation for many years, since before my husband was born. So they all have camping running in their blood. The new generation of littlest campers (our nieces and nephew) truly love it too. Oh and did I mention? We're talking real camping here…as in, sleeping in tents and cooking on a camp stove and/or over open fire and swimming in the lake (no soap allowed!)…and last but certainly not least, using an outhouse (which can be seen lurking in the background of the following photo).




As for me, somewhere in our family album there is photographic evidence that I went camping as a toddler, but needless to say I have no actual recollection of this. However, I am proud to say that I have become a huge fan of camping! I've been going along on this yearly trip every year since I met my husband, and I love it, bugs and all. Actually, rain is way more of a pain than bugs. I don't even mind the outhouse. I'm fairly low-maintenance when it comes to my hair etc., so I like to think I fit in pretty well to the camping scene. Granted, that first shower after coming back to civilization sure is a wonderful thing, but there's also something fun about not having to worry about how you look for a few days, and just jumping into the lake for a swim each day to get the grime off.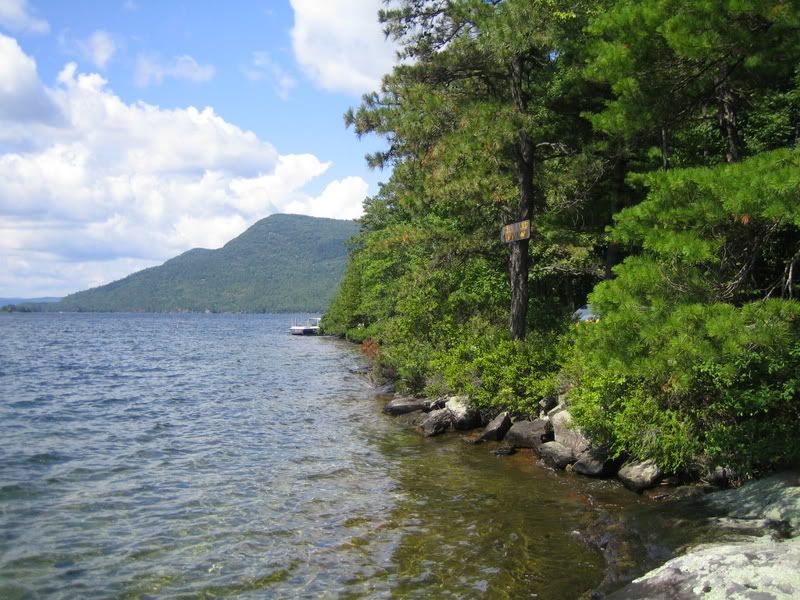 Here's a picture with a couple of our tents (that's ours on the right...what you can't see is that it's covered in ants...truth be told, I could've done without those, especially since many managed to find their way INTO the tent):




I got a quite a bit of knitting done on this trip. After much deliberation I ended up taking along my Grasshopper sock #2 and my Fuchsia Lace Scarf. Both were well-suited to camp knitting. I finished the sock before I moved on to the scarf. I also interspersed my knitting with some reading. It truly was a decadently relaxing vacation. We even decided to take an extra day off from work and extend our trip by one more day. I am glad we did since the day we would have had to drive back ended up being the most gorgeous day, and it would have been a shame to have missed it. This was also my personal record for number of successive days of sleeping in a tent: 4

Back soon (I promise!) with knitting updates and tales of FO's!