A Scarf
Finally, a FO! I decided to work at finishing something that was close to being done before continuing with my Rockin' Socks. So I finished my "Mimi Verylong" scarf, and I love it! I wasn't sure how long I wanted it initially. But then as I tried it on I decided that longer was definitely better, and I knit onward until the yarn was almost gone. It's a great pattern, easily memorizable and quick-moving (the fact that it took me over a year to complete is nothing to do with the pattern!) and my only disappointment is that it's getting too warm to be able to wear it this season. Oh well!
As I think I mentioned before, the colors in this yarn did something interesting in this scarf. The blue created a fun zig-zag that went back and forth across the scarf for the entire length of the scarf, in a very regular way. It's only really apparent when it's laid out like this:

I like it! The weight of the scarf is ideal...it's nice and thin and lightweight and can be worn different ways...it sort of wants to roll up on itself and that's okay, makes it a long skinny scarf. I found I can wrap it once around my neck and have it hang long with less neck coverage, or twice for more coverage that's still not bulky at all. Or, I can fold it in half and then pull the ends through the loop which then hangs at a reasonable length but again is not bulky. I can already tell this is going to be one of my favorites next year.
My specs for this scarf can be found here.
Some Yarn
I enhanced my stash recently. More sock yarn. Which I needed like a hole in the head. Ha! I have been reading the blog The Knitting Wannabe for some time now. Recently, she opened her own yarn shop called Sonny and Shear. It's very cute...and so I decided to get some yarn and a pattern from her. I'd been drooling over a colorway from Lorna's Laces called "Tickled Pink" and so I ordered some from Kris. I like to support small businesses, and even though this is an online shop, it's small and therefore to me it's a bit like a friendly LYS. Anyway, I placed my order last Thursday, and discovered to my delight that the package had arrived on Saturday! Two days from the west coast to the east coast! I was very pleasantly surprised. It included some tasty-looking tea bags and a hand-written note from Kris. A nice touch, I thought.
And oh, right, the yarn. Here's the yummy pink stuff I got: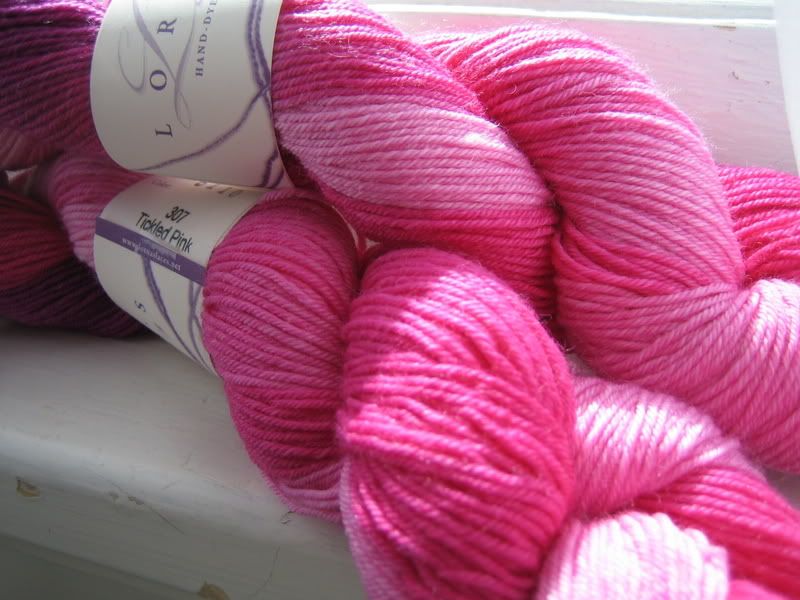 I love pink. I mean, reeeeeeeeeally love it (as if that's not obvious by now...) And variations of pink together are even better.
I also got myself a copy of the Fibertrends Felted Clogs pattern which I see all over the place and figured would be fun to try one of these days.
[Note: I have no association with her shop, I'm just a very satisfied customer and wanted to share that.]
A Kitten
Last but certainly not least, a couple of obligatory cute cat photos. First off, this photo is a bit old news by now, but this was what Moose looked like when he and Maddie first met: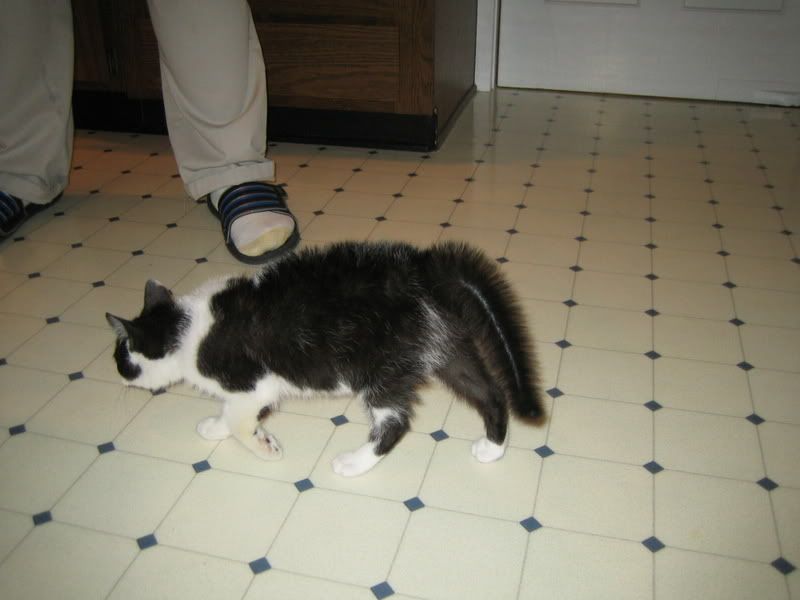 I call this his "pipecleaner" tail. tee hee. He hasn't really freaked like this since, and I think he's warmed up to Maddie and just wants to play. Maddie, on the other hand, is not so sure about that. Moose likes to follow her around, and she's taken to jumping up on tables and counters to get away from him (since as yet he cannot jump up that high).

But sometimes he gets his way:
And finally, the type of photo that seems to make everyone say that they want to come back in their next life as a well-loved cat:
Just snoozin' on the sofa, looking so angelic. "HA" I say to that.
Last night we decided to let him roam the house overnight instead of trapping him in the family room as we've been doing. He spent the
entire
night on the bed with us. And how do I know this? Well, needless to say, I didn't get the best night's sleep I've ever had. Initially there was a lot of the pouncing on toes and anything that moved or just the pattern on the comforter, but eventually he settled down. Around 2am I awoke to some purring in my ear and discovered that he'd made himself comfy nestled up close on my arm. He stayed there, purring his little heart out, for a good 40 minutes at least, during which time I did not sleep solidly. Boy can that cat purr.
Now back to some knitting and my STR socks!