I finished my Inside Out socks! Finally, sheesh. Actually, in all truthfulness I finished them the other day but then had more interesting things to do than weave in ends and so they sat for a few days. But, without further ado, I give you my completed Inside Out socks:





The one on the left is "right side out" (as they were knitted) and the one on the right is "inside out." I can't say that I prefer one or the other more, I think I'll just switch back and forth.

(Specs on these can be found here.)

The hand-dyed yarn did interesting things with these socks. The feet of both socks look quite different, stripey-wise, but I love that about them. I'd rather they not match exactly, gives them more character. The leg portion, however, was done on larger needles which changed my gauge and made the yarn more striped than pooled.

The tops of the socks (insoles?):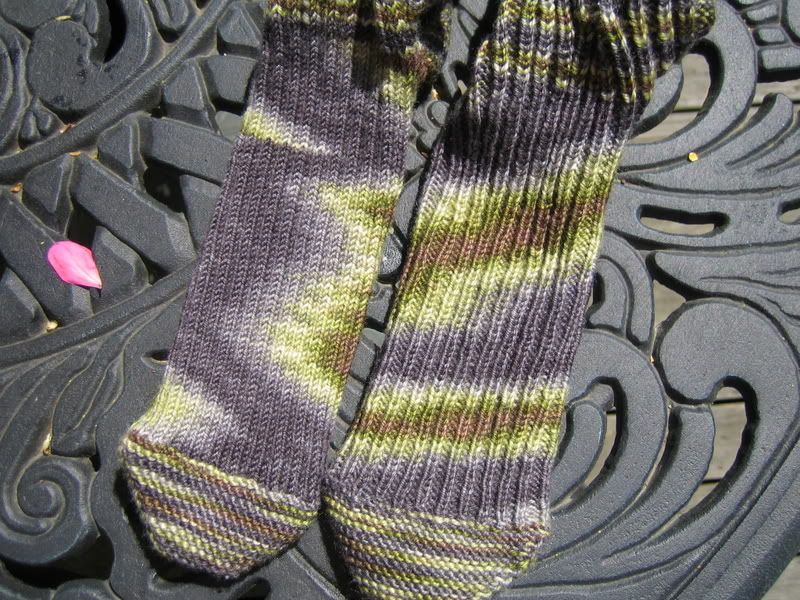 and the soles:




I did make one other small error, in that back when I found a knot in my yarn and restarted, I just joined the yarn where I was, instead of looking at the colors in the yarn and jumping forward to the same spot in the next repeat of the colors. So I got a sort of funny interruption in my pooling, You can sort of see it in the above photos at the top of the foot of the sock on the left. But they're so irregular anyway it doesn't bother me. However, I did handle the second break in my yarn (thanks, Moose!) better and I did advance to the right spot in the yarn, and for that you can't tell where it was. Anyway, these things are SO COMFY...they're definitely thick though and I can't wear them with all my shoes, but great for wandering around the house. Yesterday was a chilly spring day and I got some good use out of them already. :)

Back soon with a swatch for a new project I am challenging myself with.