Finally I have something complete to share with you. I whipped up this quick little project in between working on other things since I wanted to be able to wear it right now and enjoy it. It's just a little thin scarf, actually an i-cord, to wear during the summer. I got this yarn because I liked the color (I think also partly because it's something different from my usual!) and I have a bright green shirt that it goes really well with.





The yarn itself is two yarns together, one a multi-colored ladder-style yarn that goes from bright green to blue. The other is the solid color turquoise that's a thick-and-thin type yarn. I think it makes a nice combination. The yarn is called Jo Ann Sensations Baja, but I can't find it on their website. I did get this yarn on sale so I am now wondering if it has been discontinued? Not sure.


I did the fringe in just the ladder yarn, partly because I wanted to see more of it but also because the other stuff was fraying. The ladder yarn has a nice "drape" as fringe too.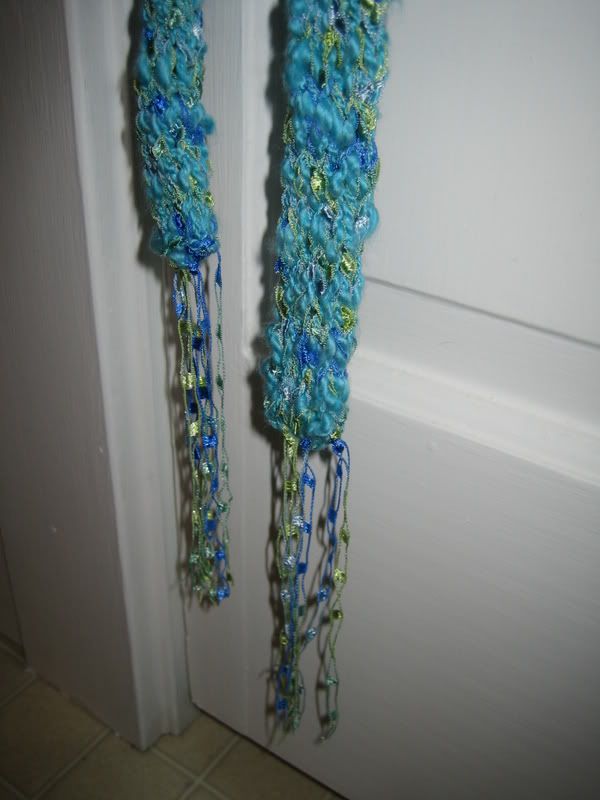 As I mentioned, this was simply an i-cord knit on two size 10 1/2 double-pointed needles. I cast on 8 stitches and worked through one ball of yarn. This turned out to be long enough (it measures about 58 inches) and so I didn't use much of the second ball except to make the fringe. This project could easily be made with just one ball of yarn if you reduced your stitches to 7, I'd imagine. (See also my project page here.)