This is almost old news now, but I got my June Rockin' Sock Club kit a week or so ago. I love it! Just in case there are still some people out there who haven't gotten theirs yet, I won't post spoiler photos. But I will link to them in case you want to see!

Here is the yarn and the pattern. I think it's a cute pattern, and I LOVE the colors in the yarn. This is an outdoor, natural light photo of the yarn. And, as always, the adorable emergency skein. hee. I never get tired of those.

~~~

The following photos are of an old project that I recently decided to modify a little. (In case you're interested, here are some previous posts about it, when I got the yarn and started the project, partway through, and when I finished it.)
Well, I like to think I didn't so much as "modify" it as "improved" it. I had made this purse a while ago, and I love it. However, since it had an open top and is very soft and floppy, I rarely used it because I was afraid things would fall out, even with the little "dinghy" bag I made and attached with a snap (see this page for a photo and specs on yarn and pattern). I had thought about putting a zipper on it but was so entertained by the fun watermelon lining fabric I had found for the bag that I didn't want to conceal it behind a zipper. But the more I thought about it, the more I realized that a zipper was just what this bag needed, and that I could probably add one without losing the effect of the fun lining. So I found a bright green zipper and hand-stitched it in, while still letting a little of the lining show: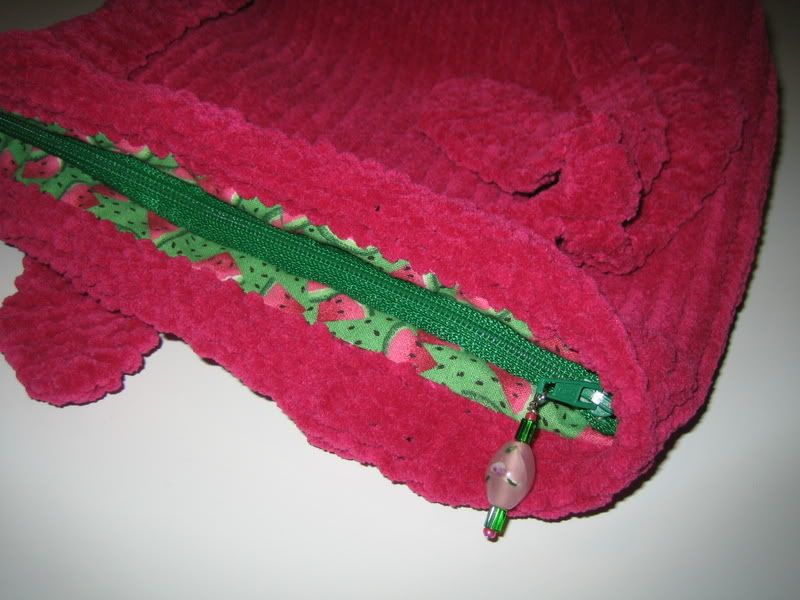 Then I added a beaded zipper pull, since I thought it could use that too: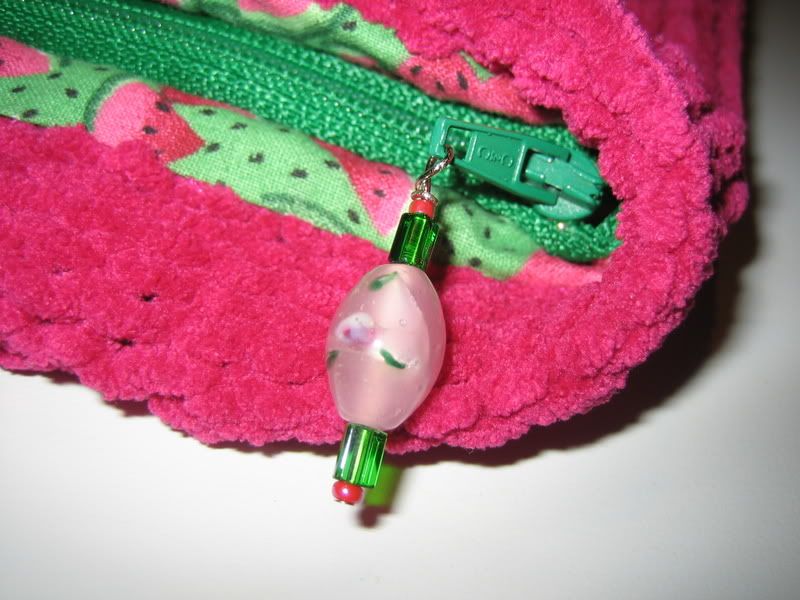 I am very pleased with how it came out, and I think it was a good improvement on a cute bag.