It's done! I felted/fulled the pink bag. In all truthfulness, I did so a few weeks ago. I know some of you were interested in seeing how it turned out…so I'm sorry for the delay! Anyway, I think it came out kinda cute. It sure didn't shrink as much as I thought it would, but that's okay. It also took forever to shrink even as much as it did. The yarn was a loosely spun 1-ply, the kind that's really hard to sew up seams with, since all it wanted to do was pull apart. I had to keep twisting it as I sewed. Anyway, I am happy with the bag! I got a zipper for it but am unsure whether I want to sew it in or not. I'm going to leave it as is, and if one day I feel the need for a zipper, I'll add it then.

So without further ado…I give you, the Very Pink Bag: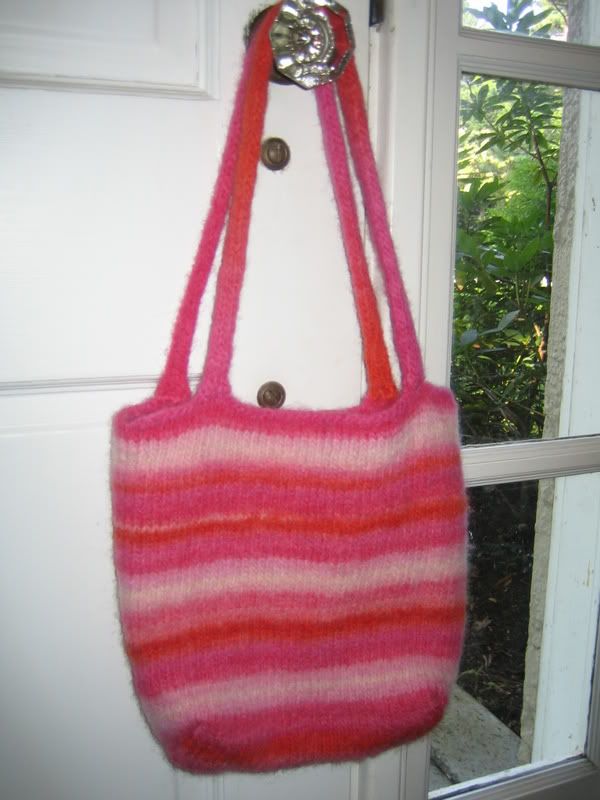 I like the way it looks, the stripes are still very apparent, and satisfyingly symmetrical in a random sort of way. I had originally imagined this bag ending up smaller and with shorter handles…but this is okay too. I can put the bag over my shoulder.





Here are the specs on this bag.

Stay tuned…more FO's to follow!