So I'm back from another blog hiatus. I've been back from vacation for a little while now, but still getting back on my feet. It's amazing how much stuff gets backlogged when you don't keep up with it on a regular basis!

I am SO ready for fall now! I love love love it. It is my favorite season, and I am already dreaming of crisp cool days and gorgeous leaves. I'm not even that upset by the fact that we will have tons and tons of leaves (and other things that drop from trees) to rake in a couple of months. Last year, our first real fall in our house, I was quite daunted by our mammoth task. But I think I realize now that it wasn't so bad, just do what we can and it's not the end of the world if our yard has some leaves on it for a few days. Anyway, as soon as we get back from our yearly summer vacation at the shore, which is always at the end of August, that to me signals the end of summer and I am ready to move on. Plus, knitting is more fun in the fall. :)

I have been doing some knitting since last I posted, though not a ton of it. While away on vacation I finished sock #1 of my Solstice Slip socks. Here are some photos: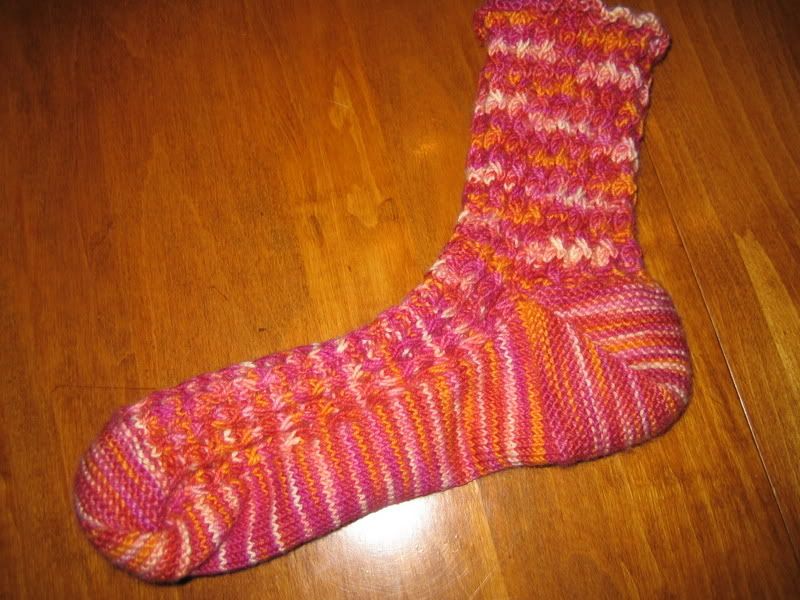 I like how the garter stitch toe and heel look: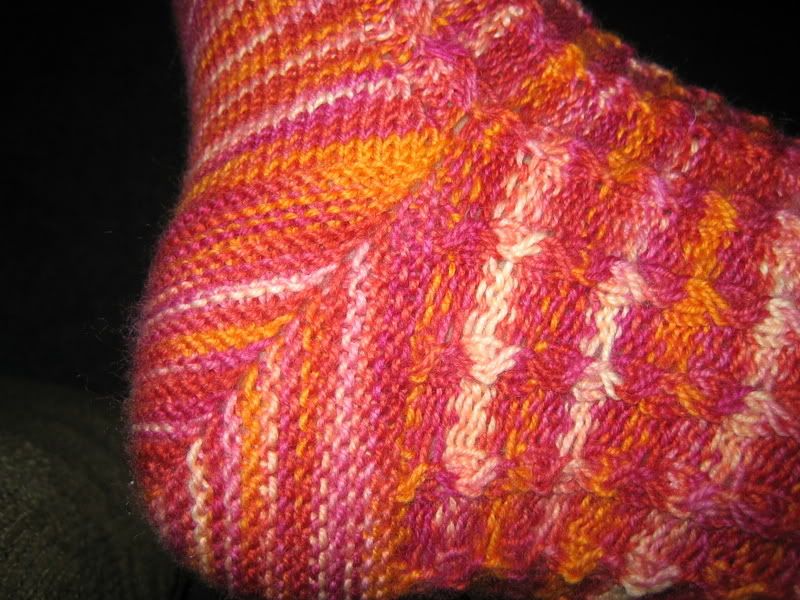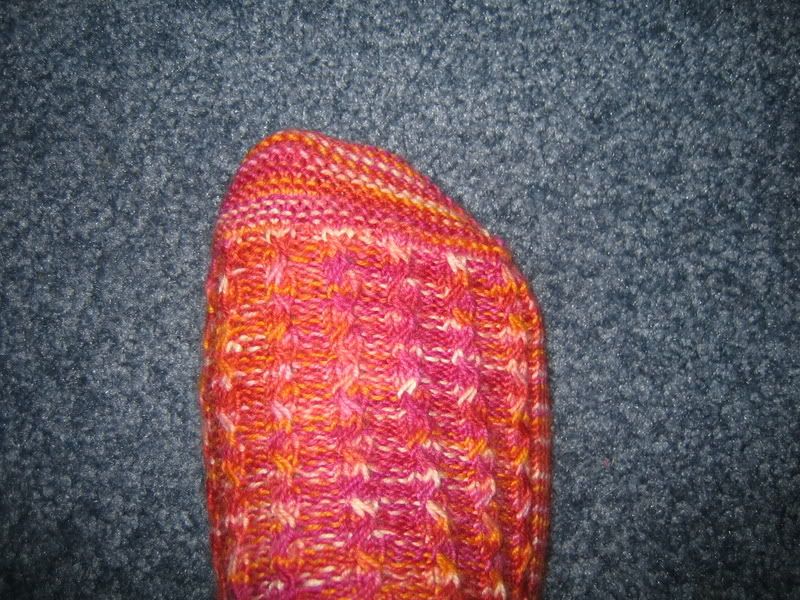 I still have not cast on for the second one though, and for some reason I was in a little bit of a knitting slump for a few days. I think, dare I say it, I was getting a tiny bit bored with my current WIPs, and just needed a change of scenery. So to remedy this, over Labor Day Weekend I cast on and almost finished some mittens. They're so delightfully quick and fun to knit! I had gotten what I like to call "souvenir yarn" at a little yarn shop in the town where we were vacationing, and even though I have other yarn that's earmarked for mittens, I started with this stuff. It's knitting up really nicely, photo soon.

This is the mitten yarn I got: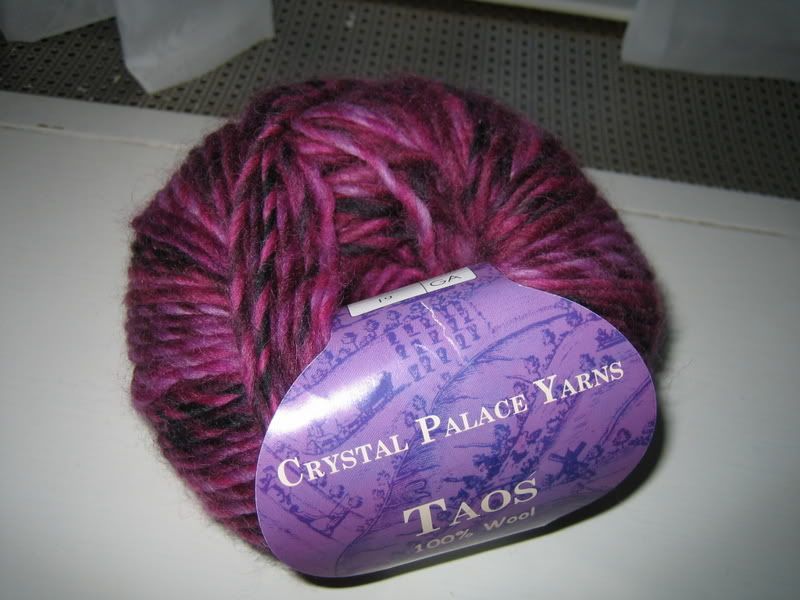 And this is some novelty stuff I'll put away for next spring when I'm itching to use these colors, to make a summer accessory scarf. I love the colors, and I wear both of these colors a lot: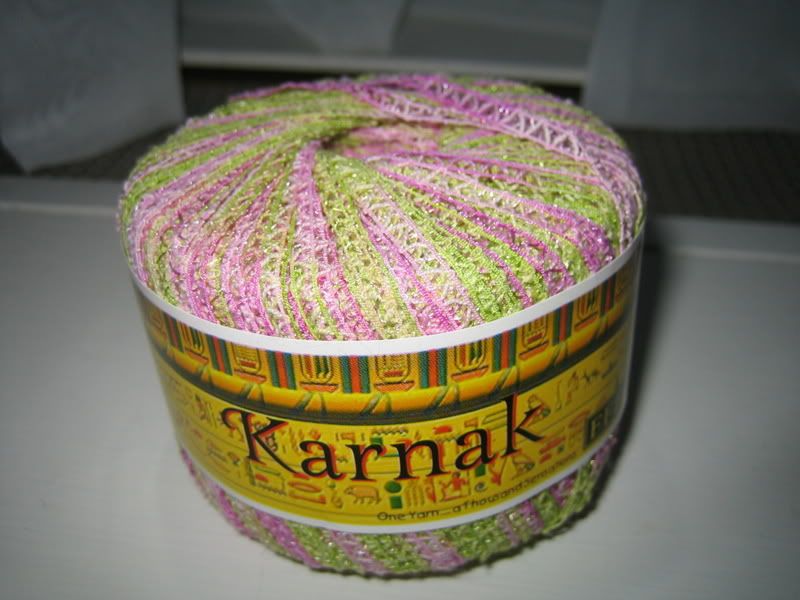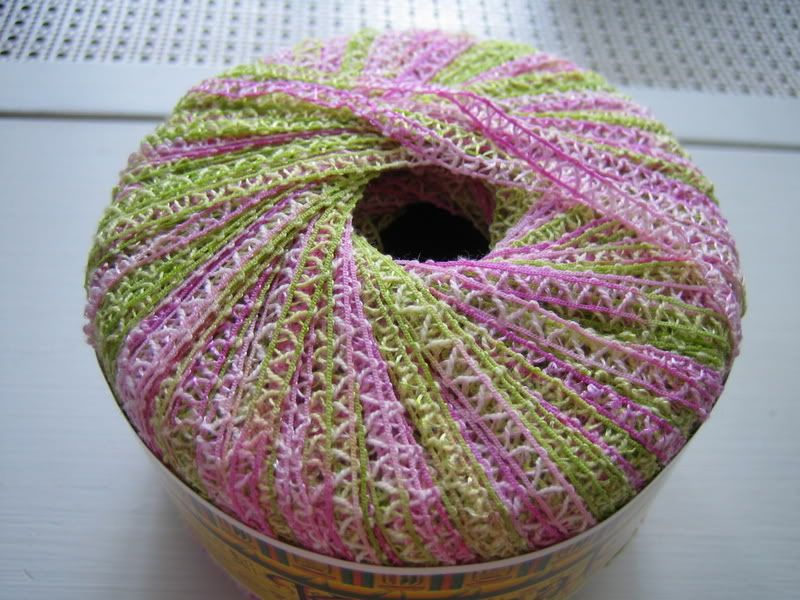 (The second photo is a little more color-accurate.) Right now though I'm in mitten mode. :) I love getting souvenir yarn from places I visit, so then it has a little more meaning to me when I knit with it.

We had a fairly productive long weekend too. One thing we did was get an external hard drive on which to back up all of our files, which we'd been needing to do. We learned our lesson a while back when our hard drive in our computer kicked the bucket and we lost a lot of stuff (thankfully I'd backed up many photos on CD, but not all) so this was a good move. I feel better about the photos and such that now is safely copied. I still intend to put them on CD too, since photos are so important to me.

We also spent some much needed time cleaning out and organizing our old shed. We have a shed that's built onto our detached garage, and it's great for storage…except for the fact that squirrels like to nest in there. So since they were most likely making their homes on top of the rather useless "ceiling" in there, my husband spent yesterday tearing it down. He was so grimy after that I literally had to hose him down in the driveway! So now you can see up to the rafters, and there's nowhere (hopefully) for the squirrels to nest. We plan to try trapping them in our Hav-a-heart trap and releasing them somewhere far, far away.

That's it for now, back soon with photos of my mittens.