So. In the absence of WIP photos of my new Rockin' Sock Club socks (not a great loss, as I have only done half of the first toe, thanks to this), I give you this: my current WIP project stats. I hadn't taken/uploaded any recent WIP photos in a while, so I decided to get caught up on this.

Fuchsia Lace Scarf

I love this pattern. Very satisfying to knit, and totally do-able lace because it's such a narrow scarf, so it doesn't require a lot of brainpower for long periods of time. I totally love the slightly scalloped edging you do as you go along. Here's the scarf's status at the moment:


Just a note, for this and my other WIPs, there are links to patterns etc. on my sidebar under "On The Needles."


Feathery Lace Wrap
Another fun one. Great portable knitting, since it is so light and airy there's nothing to it. It too is another great, simple lace pattern, totally memorizable after a couple of repeats. If I leave it sitting for too long, then I have to brush up on it again, but if I'm on a roll with it, then it sails along nicely. I think it's a reasonably quick knit, although it's sort of "blind" progress since it's kind of big now. I actually like to put a marker along the edge so I can see my progress and don't feel like I am knitting into an abyss.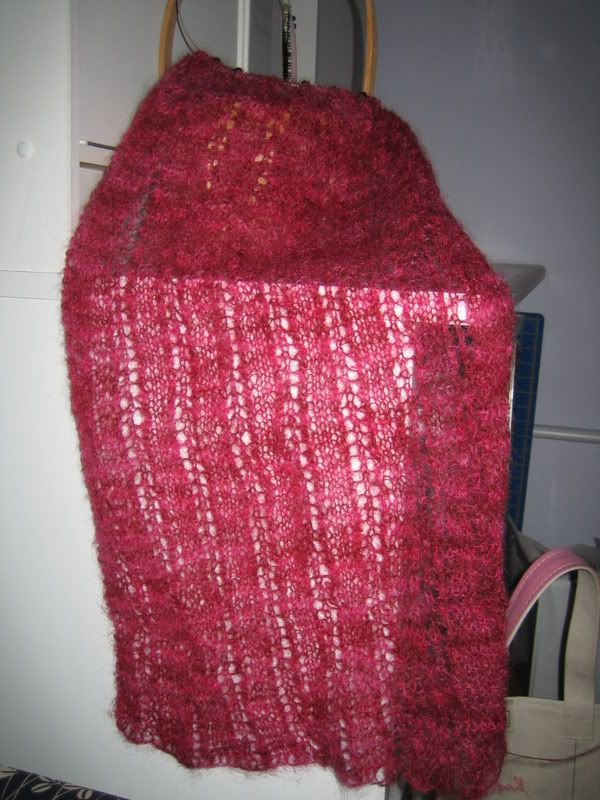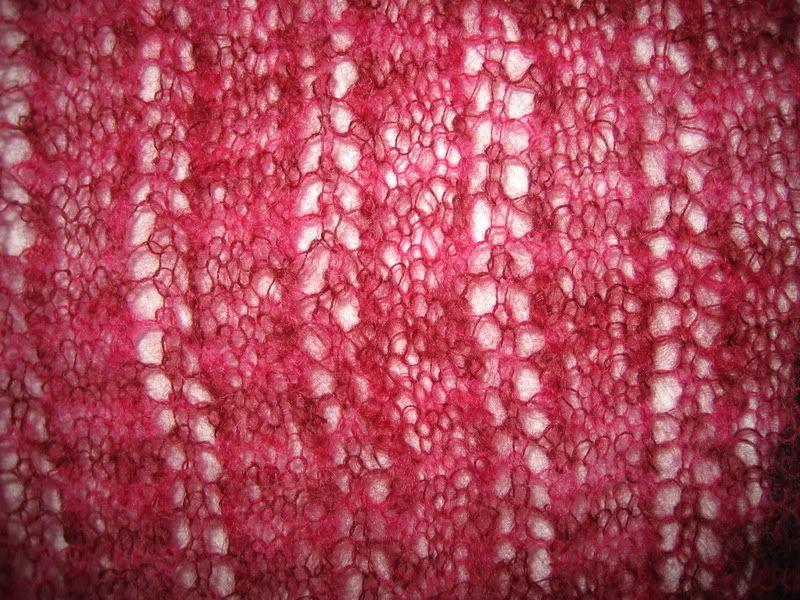 Mimi Verylong
I found this pattern on the
KnittyBlog
, but for some reason, the link to it is no longer on her sidebar. I am sure if you wanted it, one could email her for the pattern. It's another fun one, fairly brainless (in a good way!) and easy to work on.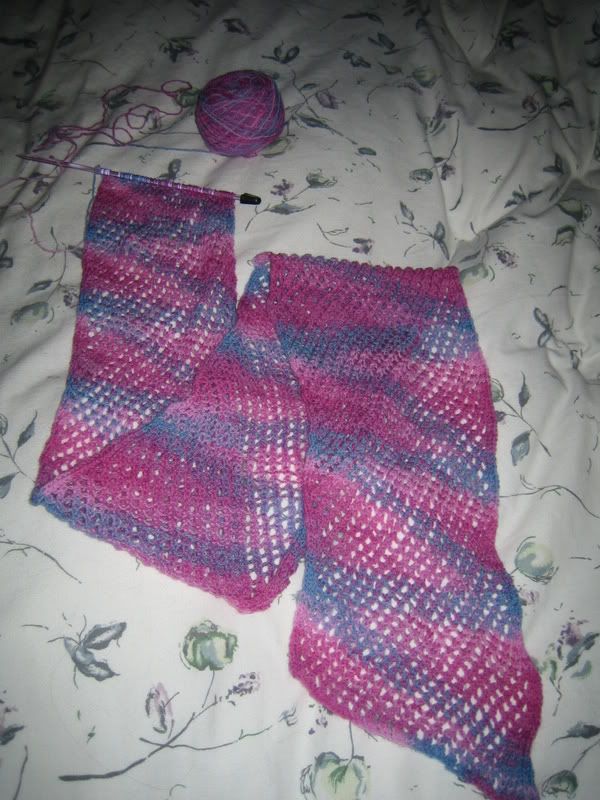 I am quite entertained by how the blue is doing its striping thing. It has been zig-zagging back and forth across the scarf in what has turned out to be a very predictable manner the whole way. At first I wasn't so sure I liked it, but it has grown on me and I think it's kind of fun.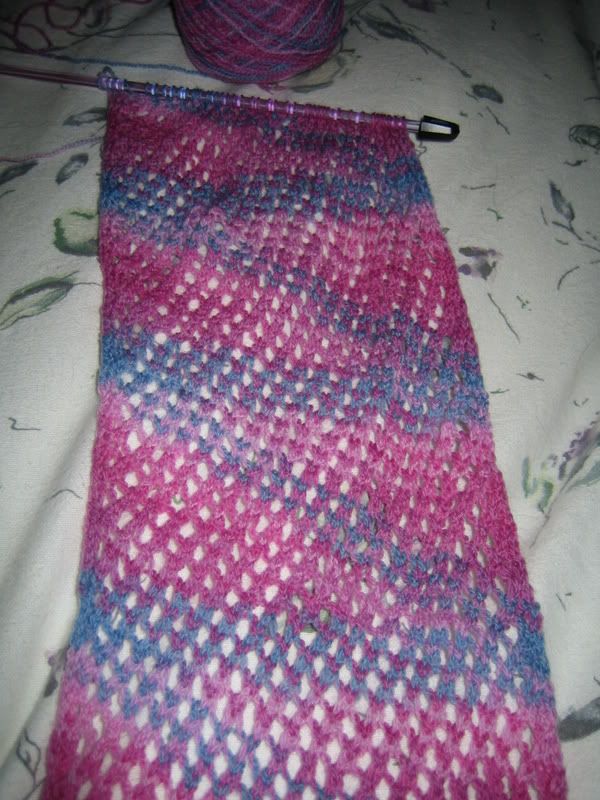 Lastly, we have some...
Plain socks
Just two pair of plain-pattern socks in fun yarns.
This yarn is KnitPicks Dancing, and it has some elastic in it. I like the way this sock fits. The color did some pooling, but that isn't something that bothers me. Nor do I need to have my handknit socks match exactly; for me, that's a part of the charm of them.
This is the start of a sock in Trekking XXL. I had started this sock, did the leg, heel and most of the foot when I decided it just wasn't going to fit. I was using smaller needles to make this a tighter knit and my usual number of cast on stitches wasn't going to work. (what's that?
swatch
, you say?) Anyway, I frogged that, and started over with more stitches. However, this is currently on some temporary needles as I have borrowed these 0's for my Rockin' Socks.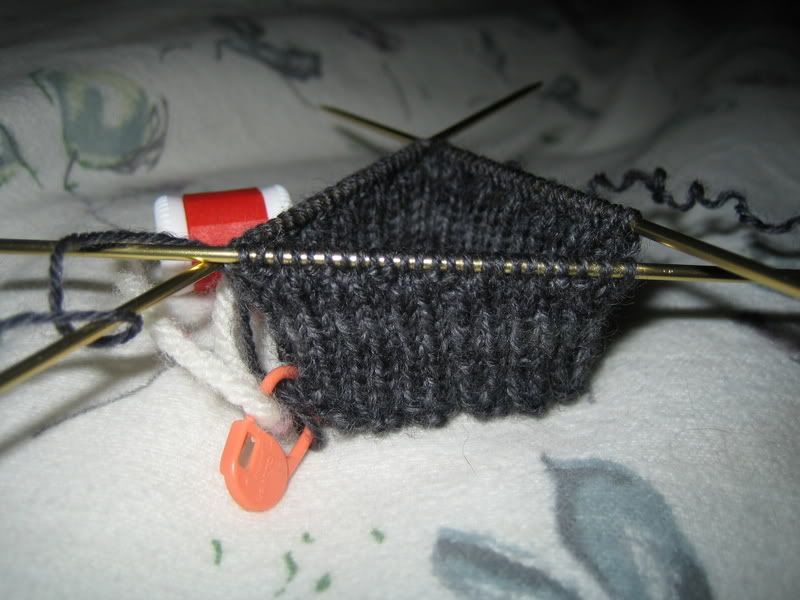 Hopefully tonight I will get some more knitting done on my new socks, and also some photos.
>^..^<