"Clean-up in aisle Moose!"

That's what my husband said last night. I was upstairs brushing my teeth when he called up to me. Uh oh, I thought, what happened? No, Moose didn't yak, or miss his litterbox. He did, however, pull a mosaic tray of glass votive candleholders (not lit) off the coffee table and even though the candleholders hit the carpeted floor, the heavy mosaic tray followed and landed on top of them, which managed to break two of them! I'm really not sure how such a tiny cat managed to do this, but hey, I suppose anything's possible if you're determined enough. DH said Moose didn't really get scared by the ordeal, but he did get a little too curious and tried to help clean up the mess he'd made, so DH had to put him in the lavatory so we could clean up the glass. Silly Moose. And oddly enough, even though I liked those candleholders, I'm not the slightest bit heartbroken about them...and heck, I figure that's just a couple of things I no longer have to dust!

Warning: Rockin' Sock Club spoiler ahead!!

Upon arriving home from work yesterday, I pulled up to my house and spotted that telltale blue and white box outside the front door. YAY! Could hardly wait to get inside and open it up. Naturally, I had some help opening it. Moose was very curious about my STR kit, and I had the whole thing out on the coffee table and as I was excitedly inspecting it, so was he. He was pawing at the little emergency sock yarn skein, although he especially loved the little pull-tab strip that came off the shipping box. hee. Kittens are so easy to amuse (and apparently, so am I).
(And yes, that coaster you see on the table was in fact the inspiration for his name.) (And no, I did not stage the photo that way.) (And in the top left you can see the corner of the aforementioned mosaic tray, which, btw, survived the encounter with the Moose.)

I'm loving the kit...so nicely put together, the pattern printing is lovely, and so is the binder. This is really a quality operation. And the yarn, love the yarn. Can't wait to see how it knits, cuz I know it'll be great. Okay, truth be told, the color isn't one I'd have picked out for myself. But, as I believe someone else posted on the Sock Club blog (say that five times fast), I joined this club to be adventurous and to try something new! Plus, ya know? They're socks. You can wear any color socks. So I'm just going to dive in and enjoy this! Tonight I will cast on and do some swatching. Can't wait. I've got my knitting bag all set:
(FYI, that bag is from
here
. I've had that bag for a while and it makes a great knitting bag since it stands up by itself. Although, it doesn't have a zipper so I may need to come up with some sort of an anti-Moose security measure. Luckily Maddie never bothers my knitting.)
As I mentioned before, I am easily amused. So it will come as no surprise when I say that I am completely enchanted by the little emergency sock yarn keychain.

Oh, and I can't remember what the inside of my ball band said. I haven't wound it yet anyway.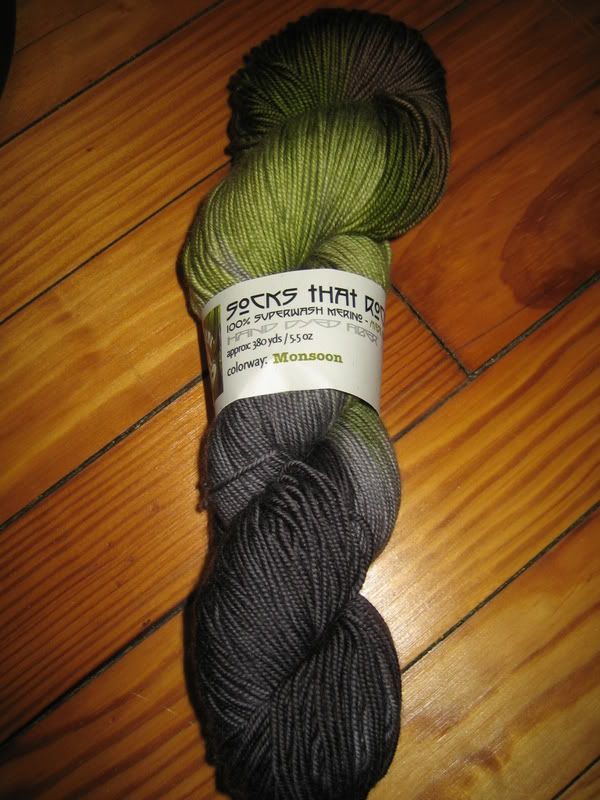 Looks like a great pattern, and I can't wait to start them!