Wheee, what fun! I completed my first short row heel, and I love it. I tried it on...and it fits!! yay. :)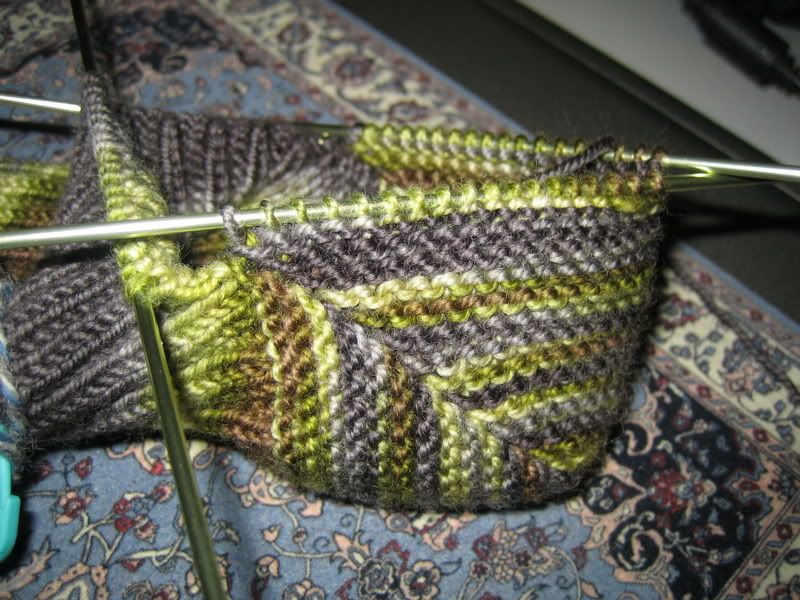 More thoughts on the short row heel:

The Upsides ~ I think it's a pretty quick-knit heel, at least for me. No stitches to pick up along the gusset (yay!) and it is a satisfying knit. I'll have to see how the whole sock fits but so far, it seemed pretty good. I was a little afraid there might be some extra bulk at the midway part of the heel but it seems fine, so maybe that's just the way heels are shaped! ;)

The Downsides ~ I'm not sure I can put it down partway through. I mean, I can set it down for a little while (always in the middle of a row, though, which isn't my usual school of thought) but I am not sure I'd want to stop for a long period of time partway through the heel process. So right now anyway, it seems that it would be best if I set aside a chunk of time to do the whole heel (or toe) at once, so I don't lose track of where I am. I think this might change with experience, but for now I think that's the way I'll plan for it.
Here's my sock's current status: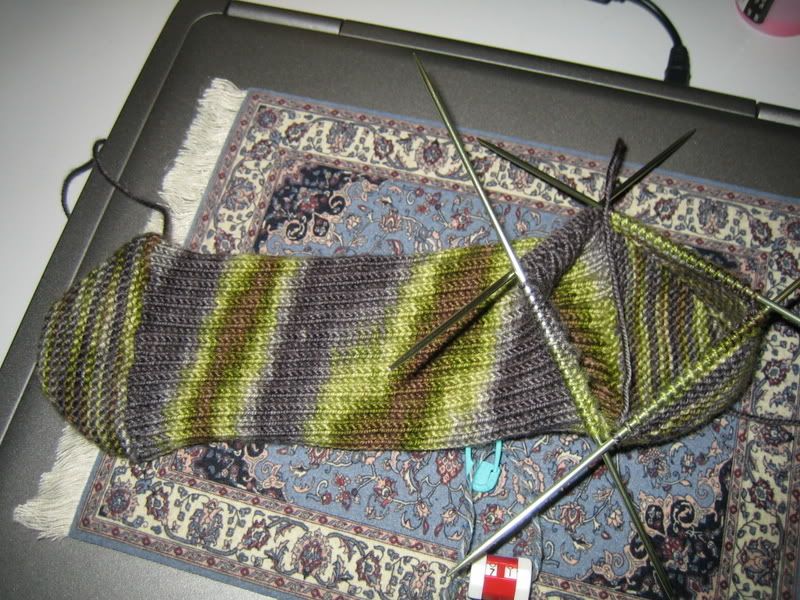 Plain Sock Knitting
As many do, I find socks to be one of the greatest portable projects. To that end, I've made myself basic "sock pattern cards" which are index cards with an entire sock pattern on them that I can carry along easily with my sock knitting. I have made some for some basic ribbed socks, and I'm working on some for some plain jane socks too, in a couple of needle sizes/stitch counts to accommodate different yarns.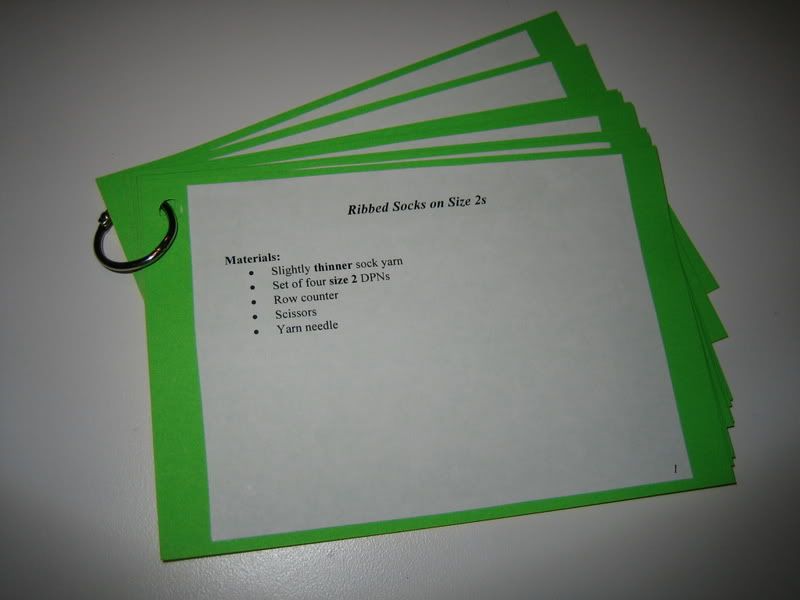 On each page of these cards (which I have "bound" with one single ring through hole punches) is one step of the sock...starting with a description and notions list, and then the cuff and/or leg, the heel flap, turning the heel, the instep, the gussets/decreases, the foot, the toe, and the grafting. I have each individual row or step numbered, and then I keep a counter pinned to my sock so I can keep exact track of where I am. No need for pencils and paper, and no need to memorize anything. (I like this because I am a freak about sock #1 matching sock #2. Must. have. exact. same. number. of. rows.) I just flip the page of the cards for each section of the sock, and that way I know exactly where I am at any time making it the ideal stop/start project pattern for me. I know a lot of people have a "sock recipe" they've memorized, but I'm not sure I'm quite there (see above reference to matching socks).
Now I'm off to do some actual knitting. :)