This was a great weekend for knitting. I got a bit accomplished on both my first Grasshopper sock and the Whoa! Pink Bag, which I'm now calling it because every time I look at it I'm blinded by how bright it is. I love it though.

First up, the Pink Bag…I'm cranking along on it, still knitting in the round. I'm getting wide enough stripes that I think even once felted it will still have good visible stripes.




I am almost done with one ball of yarn, and am hoping to continue to be able to follow the striping pattern it has so far as I use the other balls of yarn. This may require some cutting and advancing to a particular spot in the yarn to achieve this effect, but I think that when it's felted no one will be any the wiser (even perfectionist me).

~~~

My first Grasshopper sock is going well I think, and I made a fair amount of progress on it. It goes pretty quickly.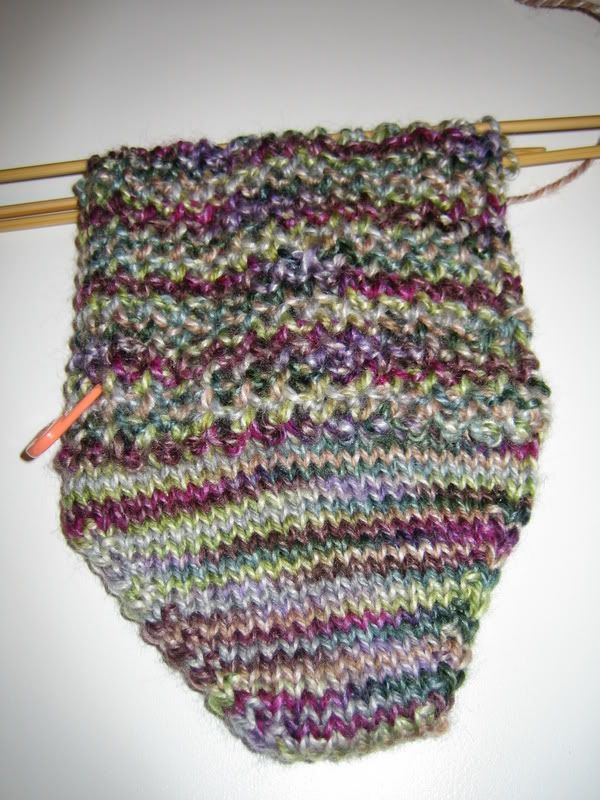 I was a little concerned about how the lace would go for me after all of the posts I'd read on the RSC blog. I did have a bit of a brain hiccup when I started the lace portion, and I stared at the first line of the lace pattern for a while, trying to figure out how to do a yarn over on the first stitch at the end of the needle. But once I got that sorted out (hold right needle as if you're about to start knitting from the left, then wrap your yarn around it for your yarn over and then continue) all was well. I was a tiny bit stumped by the yarn over at the end of the other row too, but then I got past that one too. I am not sure if these things are such big issues if you're using two circs instead of DPNs, but I think I am managing okay anyway.

I'm finding that every other row in the lace (I think it's row 2) is a little tighter and harder to execute, but it hasn't been too bad. I've been debating whether I ought to get some sharper DPNs like the KnitPicks ones, but so far I'm managing okay on my bamboos.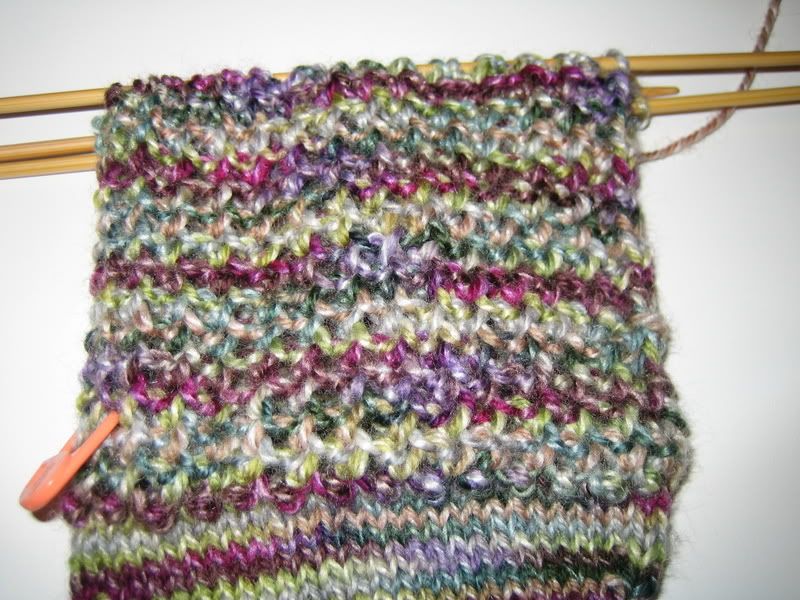 I have to say, I do like that there's stockinette on the sole since that eases up the lace portion a bit. And further to that, I also like that it starts with the foot with the stockinette so that I can get used to this lace pattern before I get to the leg that's all lace!

I still totally love this yarn, and I think this pattern showcases it nicely. I love how the stockinette on the sole looks too:




Now back to it!