Just like Laura did recently, I apparently have a doozie of a case of startitis. In the past three days, I've started three new projects! I was doing so well, whittling down my WIPs…I mean, I was down to two. TWO! It's been ages since I've had that few things on the needles. Oh well!

Here's the rundown: In honor of having finished my only "no-brainer" TV knitting project, I started another, the Marit Purse kit. Here's what I've done so far: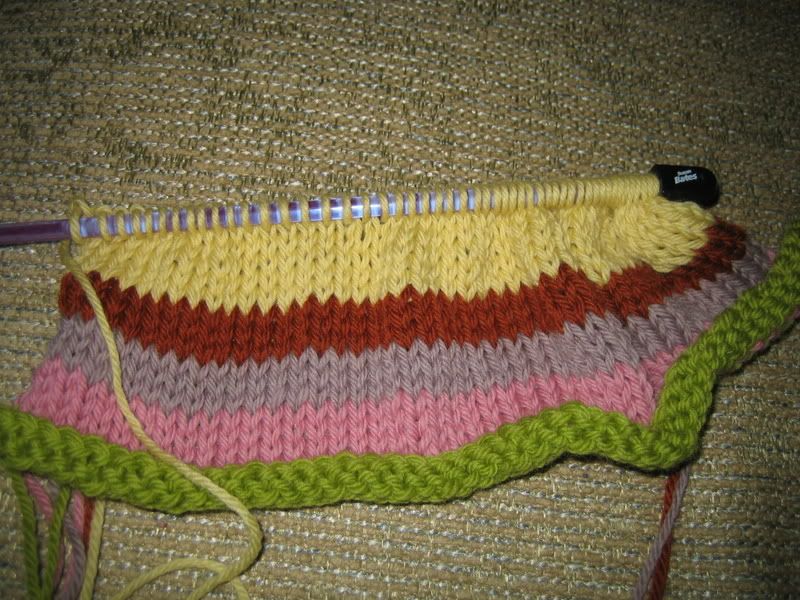 For this part (the main bag section) it's pleasant mindless stockinette, with the occasional color change to keep things interesting. I can tell this is going to be a cute purse.

Then yesterday, I had stopped in our local JoAnn's to see if I could "meet" some yarn in person which I'd seen online. I had seen this pattern* for a baby blanket on the Lion Brand website and thought it was cute. Now, let me just put this little disclaimer out there: I'm not normally a granny-square kind of gal, and it's probably clear that I am much more into knitting than crocheting, but I was loving the colors in that little blanket (Mocha, Mango, Fuchsia, Coral, and French Vanilla, seen here). I thought I could add to it and make it a lap blanket for the sofa (again with the seasonally inappropriate projects). Well, as I said, I decided to go see if I could at least see these colors in person at the store, before deciding if I wanted to order them online, since I figured I'd never find enough in a store anyway. Well, I found the French Vanilla which I've used before and liked, but the only other color I could find was the Mango. Holey neon orange, Batman! It was SO bright, and perhaps a little much so for me. Not the lovely mango-esque color I was hoping for. So, without seeing that color next to the others in person, I decided to write off that project idea for now.

But I was not sad and dejected for long. Why is that? Because I found this: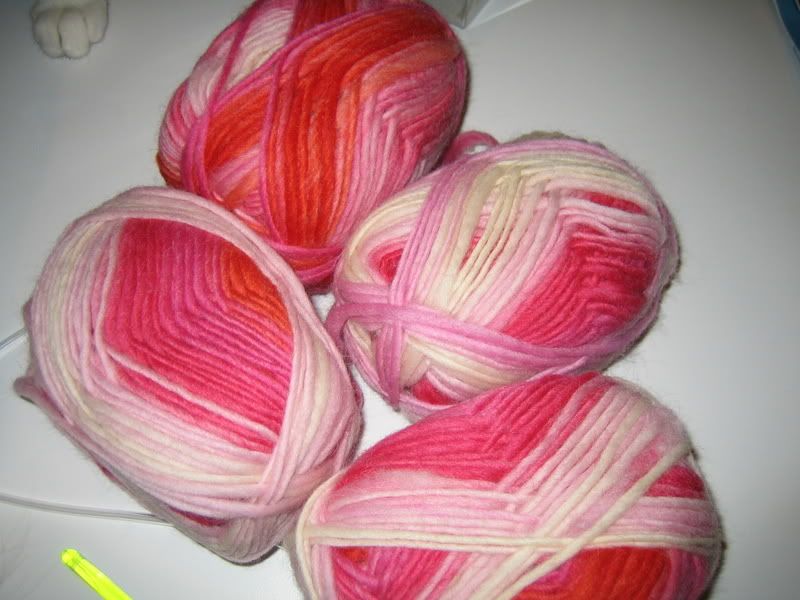 !! Sense a pattern here? Clearly, I love these colors! Mostly pinks, but with a bit of orange thrown in just for spunk.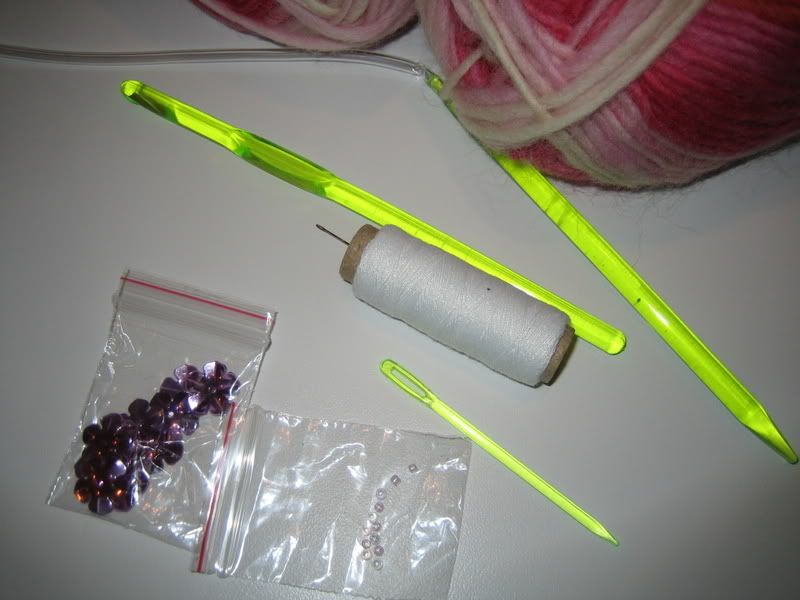 Now, if you could see my stash of needles and notions, you would know I have no business buying kits that come with needles etc. (And admittedly, they're not the greatest quality anyway.) But…I had with me a coupon for 40% off which brought the kit down to $12. Not too shabby for four balls of yarn to make a fun felted purse. (Oh, and have I ever mentioned I LOVE purses and bags? Well, I do. :o) hee.) Plus, it came with beads and sequins which I just might end up using on my bag. Needless to say, I brought that home and dove right in:




The pattern it came with has you making two squares as front and back, which then gives you big stripes with the fun self-striping yarn (whose name I don't know, unfortunately, since it just came in this kit that says JoAnn Sensations). The yarn has really long runs of each color. However, I soon decided that since this isn't going to be a huge purse, I wasn't sure the really wide stripes were going to be quite right. So I started another ball and cast on twice as many stitches and joined into a circle. I'm going to see how this option comes out: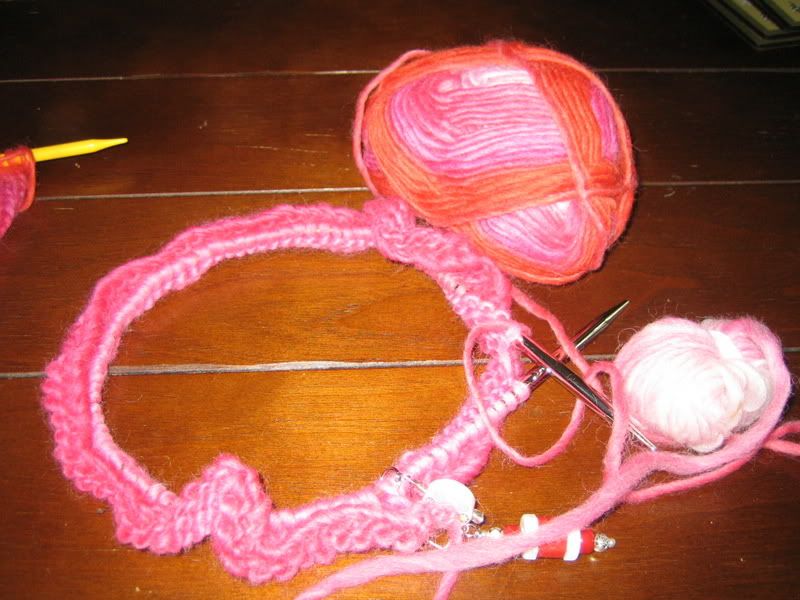 Now. You may have noticed that I said I had started three new things. I hadn't yet begun my Grasshoppers from the Rockin' Sock Club April kit, so I decided to get going on those, since I have some quiet down time to myself today where I could concentrate on something new that does require some brainpower.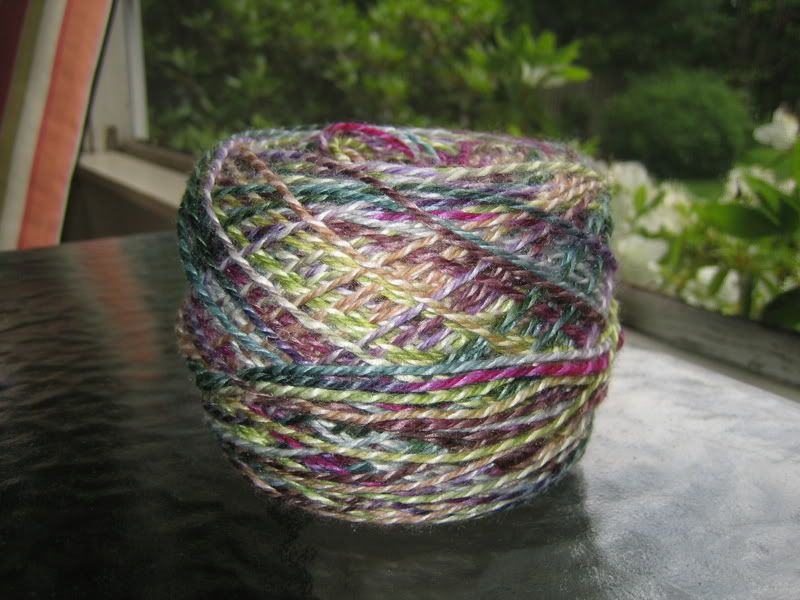 I love this yarn…it is sooooo soft, and I love the colors. The colorway is called Walking on the Wild Tide. I especially love that little fuchsia section, yum. So here's where I cast on: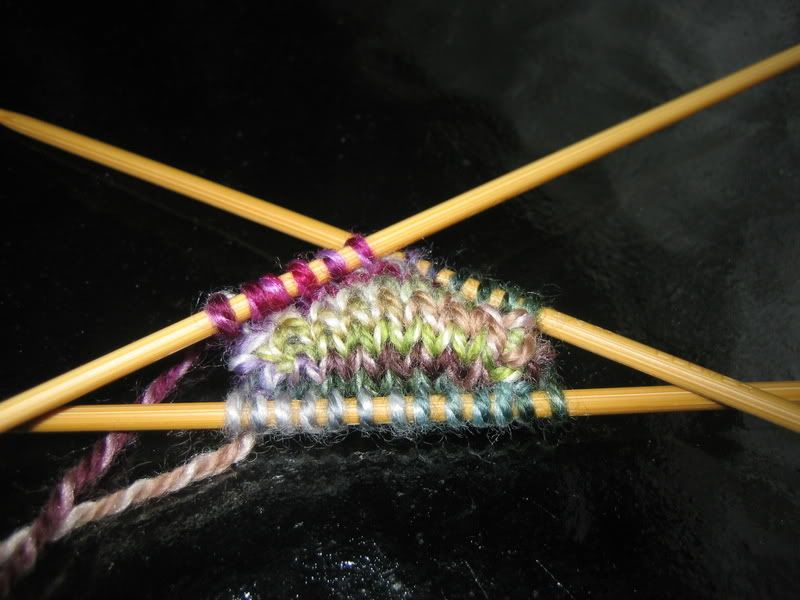 This was another new technique for me. The Inside Out socks from the February kit were also toe-up and used a provisional cast on. These used something called a backwards loop cast on (also called an e-wrap). The difference is with the other socks, you start sort of on the top of your toes, work short-row decreases to the tips of your toe, then short-row increases back to the same spot on the bottom of your toes, then you are ready for the foot. With this one, you cast on just a few stitches, and pick up more on the back, and then start right at the tip of the toe, increasing for the toe shaping. So far I like it, that is once I got past the rather fiddly first couple of rows. I have to say though, I didn't find it nearly as fiddly as I found the provisional cast on! I think what made it bearable was the fact that it was only a small number of stitches.

Anyway, here's where I am now: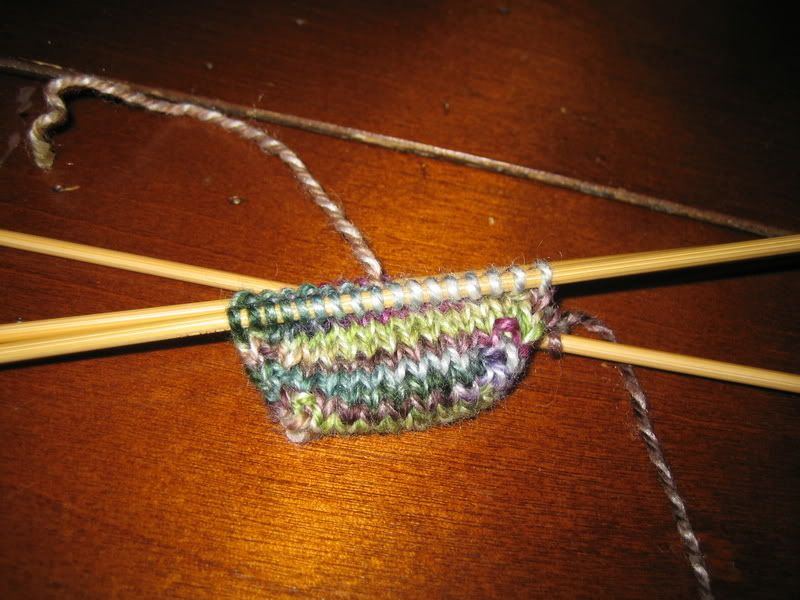 Oh, and yeah, I'm using DPNs instead of the two circulars method the pattern calls for. This is for a couple of reasons: I've never tried two circs, and think it might be best to learn on a plain sock pattern, but also because I don't have any circs this small! I don't have anything against buying some, but just not now for this project.

If you're still here reading this long and photo-laden post, thanks! I think I'm going to head back to my sock now. But first, I can't leave without sharing this funny Moose photo: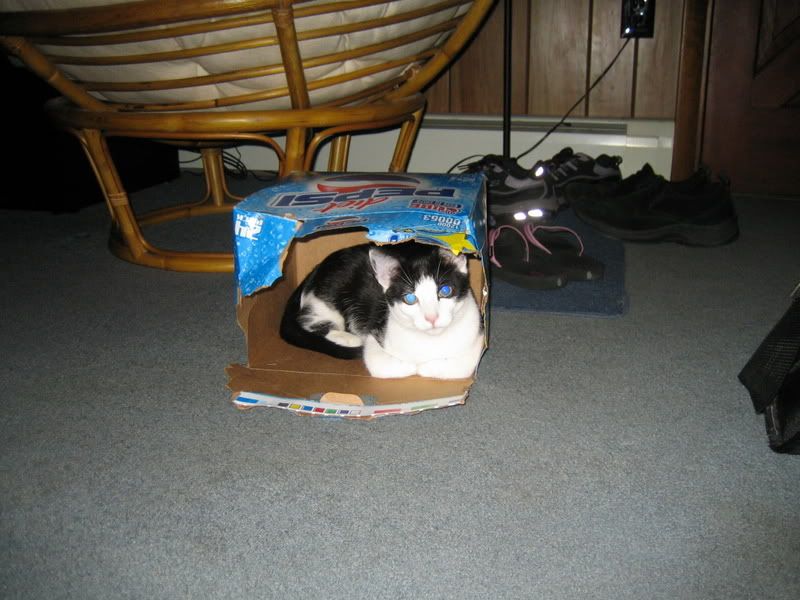 *if you can't see that link without registering, try this one. Scroll down to the "New Free Crochet Patterns for Infants" and the thing I'm referring to is the little pink and orange blanket in the middle.