...because I now need to frog this half a heel I did, to shorten the foot.




One thing about toe-up socks, which I have given a fair chance and am learning to like, is that I am never sure when to start the heel. Especially with the short row heel. I suppose this is something that will come with practice, which I am willing to give it. The first pair of toe-ups (with a short row heel) I did was the Inside Out socks from the Rockin' Sock Club January kit. Those are a tad too long, ideally, so I was going to try and use that knowledge to my advantage this time around. But no.

See, with the Inside Out socks, the heel was done on exactly half the total stitches. With this Solstice Slip pattern, there are 10 rows of increases before starting the heel. Now I can certainly see the reasoning here and I think these might even fit a little better (if nothing other than going over my heel easier), but I sure didn't allow for that extra length when I was comparing this sock to the Inside Out sock. sigh. I started the heel anyway, and figured I'd probably have to frog but thought I'd at least try and get an idea of how much. So I did half of it and now I am resigned to the fact that I need to frog and am unwilling to go further until I fix it.

I have to admit, I'm not so scared of frogging anymore. Of course it depends on the complexity of the pattern, but I recently frogged some of my Fuchsia Lace scarf which is a lacy pattern (I won't go so far as to say it's a complex lace, but still lacy nonetheless) and did so successfully. The technique I have found that works for me is this:


Sit at the kitchen counter, turn up the lights, and ask my husband to please not talk to me for a little while.
If they're not sleeping, close the cats out of the room (especially Moose).
Take a deep breath, cringe a little and pull the needles out of my knitting.
Resume breathing (since I didn't realize I was holding my breath) and tell myself, I can do this.
Frog one row at a time, making note of what rows I am undoing on my pattern so that I know where I am.
Use smaller needles than the pattern was using to pick up the stitches again.
Not worry about which way the stitches are facing, just get the little buggers safely back on the needles.
Tink back at least one more row, thereby righting all of the stitches, putting them back on the correct needles, and making sure no yarn is split and all is well.
Resume knitting sans error!
So...with that said, I am going to go apply my own advice to my sock and see what happens.
But first...here's why we have more than one project going at once. While the Solstice Slip sock was getting a time out, I resumed this sock and turned the heel. Successfully, I might add, since this is a more familiar top-down pattern. However it should be noted that I am writing up my own plain sock pattern guide for this as I go since I've never knit a sock at this gauge. (I did have to frog the heel on this one too...but we're not mentioning that.) I did use the Yarn Harlot's third book Knitting Rules to help me figure out where I went wrong on the heel turn, and now I'm all set, and feeling a teensy bit more knowledgable on the subject too.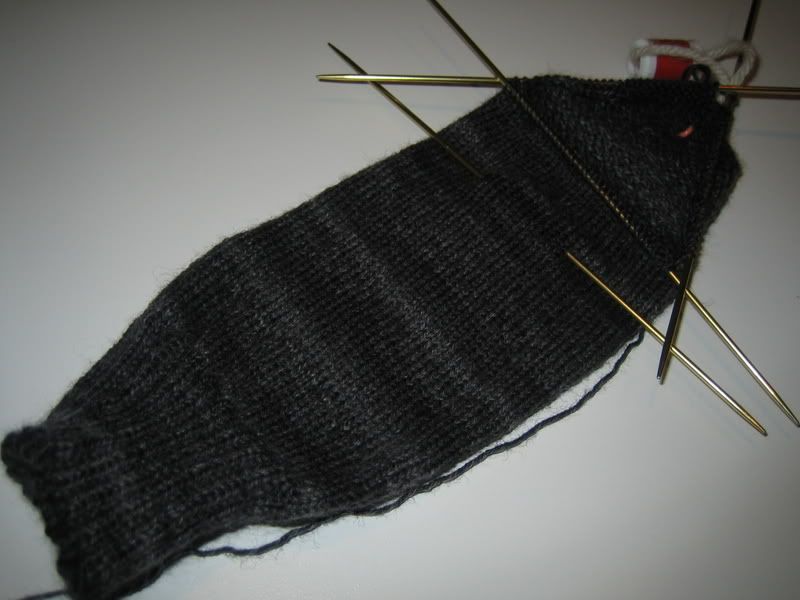 Back to my knitting now.