As Lynn kindly and so rightly reminded me in a comment on my last post, this love of fiber many of us have in common? Much more fun when you share. :) So here we go.

I recently purchased a kit for a fair isle hat that I could not resist. It's from KnitWhits, and it's called the Siena Hat (in cotton), in the Napa colorway. It came in this adorable tube: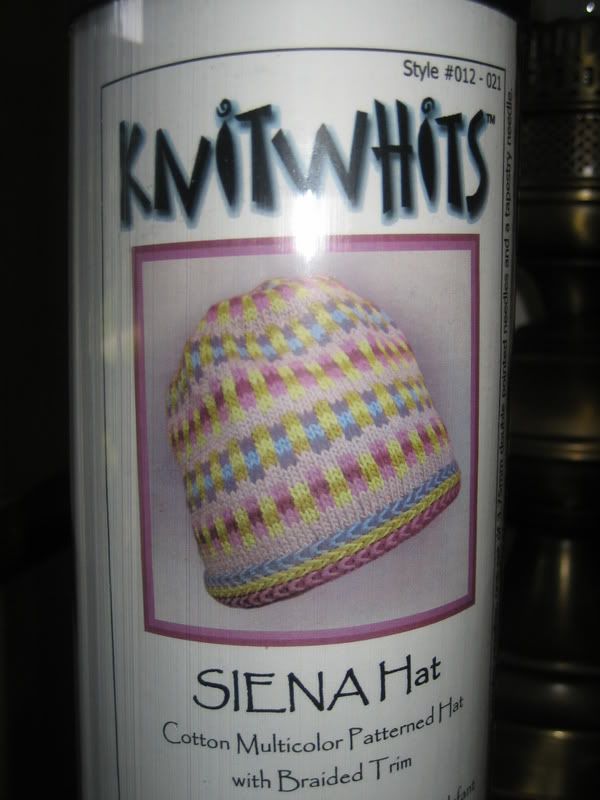 I'm excited to learn how to do that braided edge, which I think looks cool. Here's the yarn, all wound into little mini cakes and stuffed in the tube: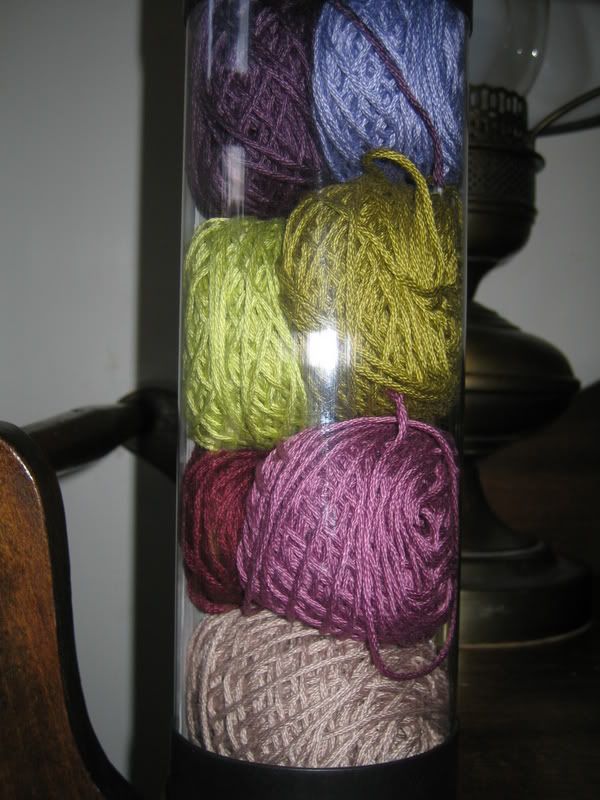 As it turns out, the colors actually will go very well with my winter ski coat, a nice bonus! That dark eggplant color at the top is exactly the same color as the main part of my coat. I already made a hat to go with my coat, but I figure, what's wrong with having another? :)

Then on a recent trip to my favorite LYS, (a treat I give myself after I go to the dentist, since the shop is on my way home and I'm early enough to get there before they close!), I found some pretty turquoise yarn that I want to use to make the scarf Branching Out from Knitty. It's almost solid but not quite, so I figure it'll be good for a lace pattern.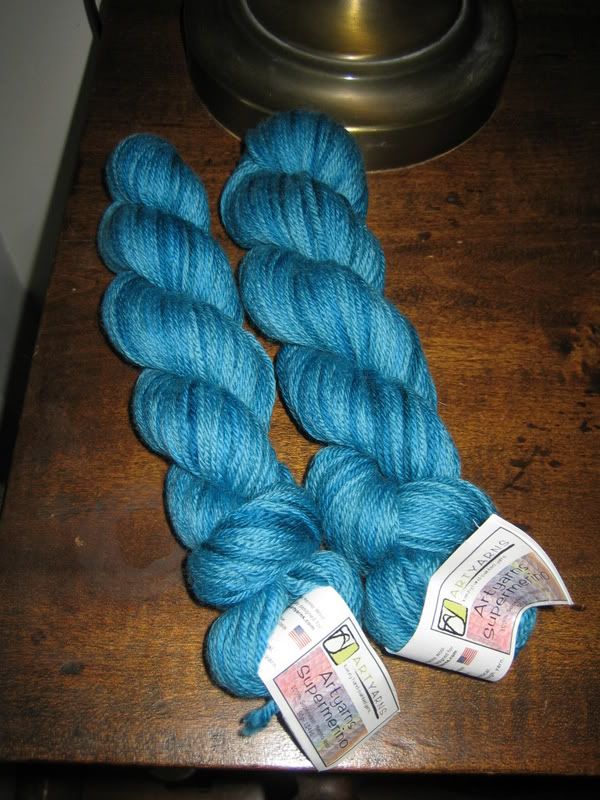 I also purchased the sock pattern book by Interweave, Favorite Socks. So then I got some plain sock yarn to use for some of the fun patterns in there. This is some Fortissima Socka, and I actually used that and started one of the patterns in the book, but found this yarn to be a tad harsh, even though it feels soft in the ball. I think I'll use it for a simpler pattern (there's one for ribbed socks with a little cable up the side) that might suit this yarn better.




Then since I just had to get some more plain yarn to make socks with patterns (most of my yarn is multicolored), I ordered some stuff from Simply Socks Yarn Company.

Here is some Cherry Tree Hill solid, in Mulberry: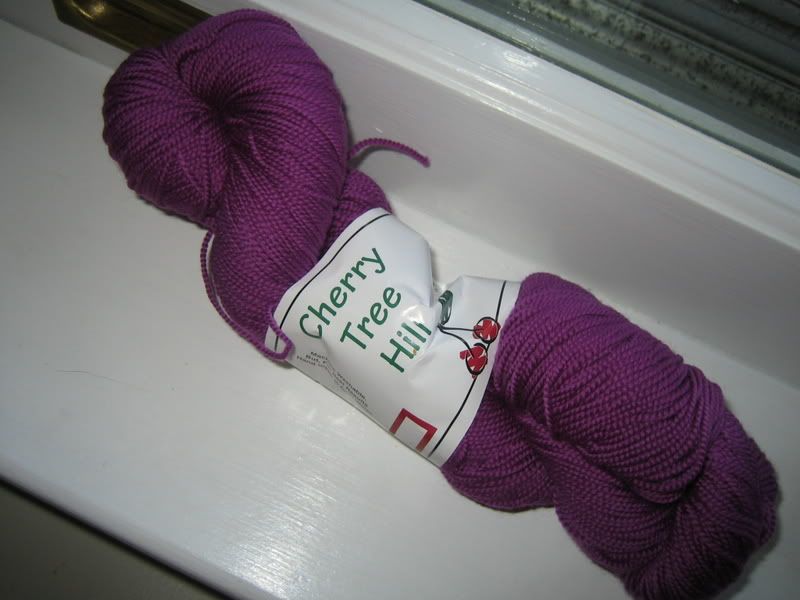 I've never tried CTH so I will enjoy seeing what that's like.

Then I decided to see what the buzz is all about and got some Dream in Color Smooshy yarn. hee. I find the name amusing! I believe the colorway is called Wisterious. It's gorgeous. It has multiple colors but is still tame enough that I think I can get away with doing a patterned sock as well.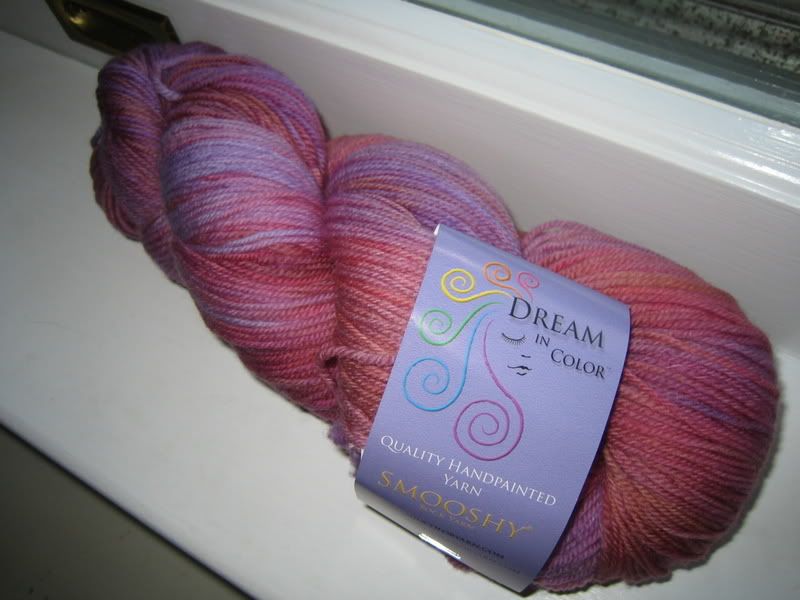 And last but not least, I got some OnLine sock yarn, which was on sale. I believe the color is 839.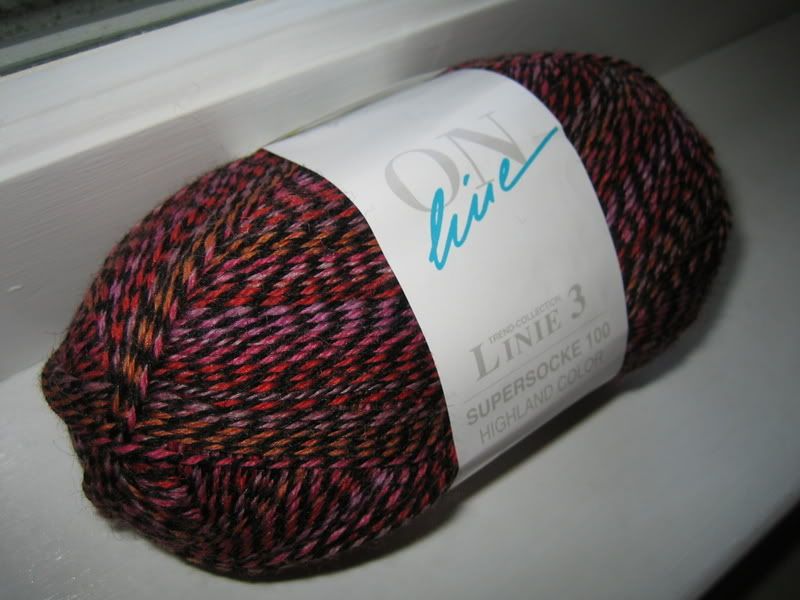 And now, because it's been far too long since I've shared a photo of our little friend Moose, here he is snoozin' in his favorite spot, quite the definition of "comfy" if you ask me: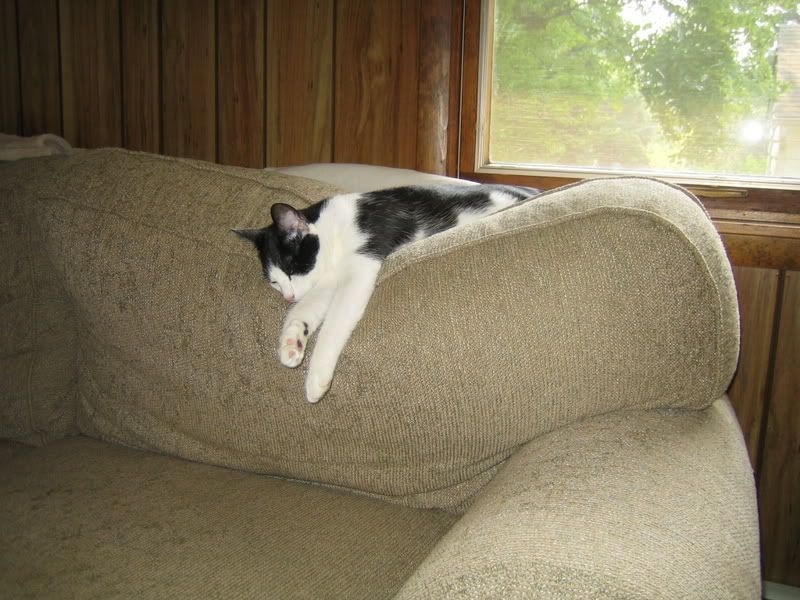 p.s.--as I sit here typing this, my DH is pointing at my yarn, and saying to Moose, "Yarn! Yarn here!" Huh! Whose side is he on, anyway?!